Since 2014, the Franciscan Sisters of Mary have shifted investments from the fossil fuel industry to projects and companies that develop and promote clean and renewable energy, energy efficiency, sustainable agriculture and forestry, and other climate solutions.
The FSM have, for instance, invested in M-KOPA Solar, a company that provides solar power affordably to hundreds of thousands of customers in East Africa who otherwise would be burning kerosene or wood to provide light and heat.
Our investments are providing alternatives—such as harvesting the native acai berry—to clearcutting the rainforest.
We invest in companies that practice responsible timbering, protecting wildlife habitats and replenishing forests even as they harvest trees.
After careful research, we partnered with investment advisors (originally Imprint Capital, which became part of Goldman Sachs) that specialize in impact investing and fossil fuel divestment. With their guidance and expertise, we have transferred our investments that were damaging the environment to ones that provide a positive environmental and social outcome—and that overall have been financial successes as well.
The Franciscan Sisters of Mary are eager to share their experience with divesting and reinvesting, to encourage others—especially faith-based institutions—to live out their environmental and social values by investing in companies that provide sound, financially viable alternatives to investments in coal, oil, and gas industries.
Over the past several years, FSM has spread the word about divest and invest at a number of venues:
In June 2014, FSM CEO and CFO John O'Shaughnessy was an invited guest at The White House Roundtable on Impact Investing, where he pledged $10 million of FSM assets for impact investing.
In November 2014, John O'Shaughnessy hosted over dinner a gathering of ten individuals with Catholic affiliations to begin the conversation about how to make impact investing more visible and accessible to Catholic investors. Since 2014 the number of interested persons and the conversations around Catholic impact investing has grown considerably. Now known as the Catholic Impact Investing Collaborative, CIIC is an informal "neutral space" for people to come together, share a meal and stories, and build relationships based on their spiritual as well as financial commitment to impact investing.
In June 2015, he was invited to Washington once more to take part in The White House Clean Energy Summit.
John served as a panelist for the "Divest and Reinvest Workshop" at the Ecology, Economy and Ethics: Mobilizing for a Just Transition conference held September 16, 2015, at the Union Theological Seminary in New York City.
John and Sr. Rose Dowling shared the FSM experience with divestment and reinvestment as part of the plenary session "The Mechanics of Divestment: Examples from the Field" at the conference Acting on Pope Francis' Call: Divestment and Investment in Care for Our Common Home in November 2015 at the University of Dayton in Ohio, the first Catholic university in the United States to publicly divest its assets from fossil fuel production.
John joined the conversation at the global climate strategy meetings in Berlin in February 2016 to discuss specific follow-through for the December 2015 Climate Accord reached at COP-21 in Paris; the event was sponsored by FSM and included 55 member representatives of the Climate Action Network International.
On Wednesday, September 7, 2016, John shared the FSM experience with impact investing and divestment from fossil fuels as a panelist for the webinar Caring for Creation by Divesting from Fossil Fuels and Reinvesting in Climate Solutions, sponsored by the Global Catholic Climate Movement.
In January 2017 John represented the Franciscan Sisters of Mary at the Laudato Si' and Catholic Investing: Clean Energy for Our Common Home conference at the Pontifical Lateran University in Rome. As a panelist for the session on "Divest-Invest Case Studies from Christian Institutions," John described the FSM journey into impact investing as a means of living out our Focus of compassionate care of creation in collaboration with others. Taking part in the meetings of the Global Catholic Climate Movement (GCCM) in Assisi later that week, John was recruited to serve on the board of the GCCM—an alliance united in the goal of mobilizing world Catholics to fulfill the vision of Laudato Si'.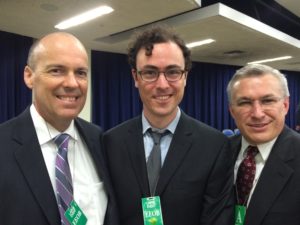 John O'Shaughnessy is often called to share the FSM success in impact (mission-related) investing, especially with other faith-based organizations. Impact investing is a solid way for such organizations to take socially responsible investing to the next level, living out in positive ways the values and beliefs they hold while still achieving a strong financial bottom line.