On Wednesday, April 17, 2019, two climate superheroes—Pope Francis and Greta Thunberg—agreed to continue the work of fighting climate change.
Tomás Insua, Executive Director of the Global Catholic Climate Movement (GCCM), wrote: "Today I was truly blessed to participate in the first encounter of two climate superheroes: Pope Francis and Greta Thunberg, the 16-year-old girl who is mobilizing millions of students through the 'Climate Strikes.'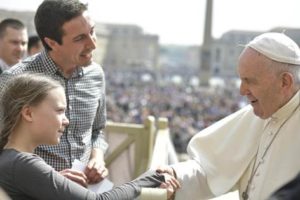 "I was honored to serve as the 'Vatican guide' and translator for Greta. It was such a moving meeting between the two most vocal climate leaders today, who are reframing the climate crisis as a moral crisis. It was beautiful to witness how both of them praised each other for their climate leadership and pledged to continue working together for intergenerational justice. Greta and Pope Francis, together, are such a powerful message of intergenerational solidarity."
In this video, Greta highlights the wonderful coincidence of the next Global Climate Strike's happening on the same day as the anniversary of Laudato Si, May 24. The youth branch of the GCCM, called the Laudato Si Generation, was launched a few months ago to mobilize young Catholics to join the Climate Strikes, and May 24 will be a huge opportunity for Catholic youth to join in support of the Climate Strikes.
FSM is part of the Global Catholic Climate Movement; John O'Shaughnessy, CEO and CFO of FSM, serves as GCCM's treasurer and a board member.